9Thrive Oil Bath & Body Oil 6oz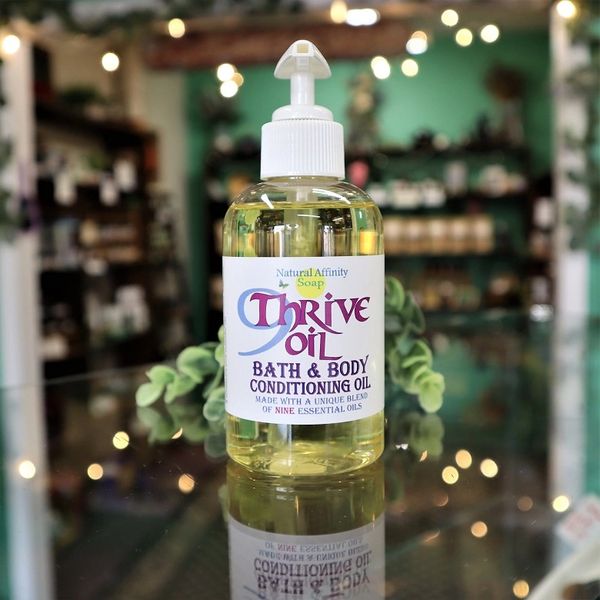 This is our #1 selling product line!   We are thrilled to announce that we have changed the name of our 9Thieves' Oil blend to "9Thrive Oil" we believe
this name has a much better ring to it and it also represents this blend perfectly!   A name with a higher vibration as it should be!  I have not altered my
original recipe in any way.  Same superior blend as it will always continue to be.


9Thrive Oil is fresh & herby.  Very clean smelling and customers have shared that the aromatherapy from the essential oil blend
makes them feel good.  Soothing and calming as well as naturally ANTIBACTERIAL, ANTIVIRAL, ANTIFUNGAL...all of the essential oils used in this blend have these properties naturally!!  Not to mention that studies have been done on essential oils for their immune boosting properties as well.  Excellent for anyone with skin issues such as psoriasis, eczema on body or scalp.
Most medicinal blend that I create is our 9Thieves' Oil line.


I formulated this blend 9 years ago with Cinnamon, Clove, Peppermint, Eucalyptus,
Lemongrass, Tea Tree, Oregano, Lavender & Rosemary Essential Oils,  These essentials have natural properties that are
antiviral, antibacterial, immune boosting. 


Try our 9Thrive Oil Essential Oil Spray, Deodorant, Sugar Scrub, Lotion, Bar Soap and Essential Oil!

Ingredients:  Olive, Sunflower, Grapeseed Oil, Vit E, Jojoba and a unique blend of 9 Essential Oils!
Clove, Cinnamon, Oregano, Tea Tree, Lemongrass, Rosemary, Peppermint, Lavender & Eucalyptus